Smartproxy alternative for web scraping?
Pay the fair price for your web scraping needs.

Try ScrapingBee for Free
based on 65+ reviews.
ScrapingBee is helping us scrape many job boards and company websites without having to deal with proxies or chrome browsers. It drastically simplified our data pipeline Russel Taylor CEO @ HelloOutbound
Fulfill your web scraping needs, at a better price
Switching from Smartproxy to ScrapingBee could save you some serious money. Especially if you are using their residential proxies.
No-limit bandwidth

We know that trying to anticipate the amount of bandwidth you are going to need is hard when doing web scraping. This is why with ScrapingBee we charge you on a per-request basis. Learn more about our pricing.
Only pay for successful requests

With Smartproxy, you will get billed even if your web scraping requests fails. We don't think this is fair, and this is why our API only charge you for successful web scraping requests.

ScrapingBee $99 Contact us

1 credits per request 100k+ IPs / Unlimited bandwidth

Smartproxy $

0.2 MB per request $15 per GB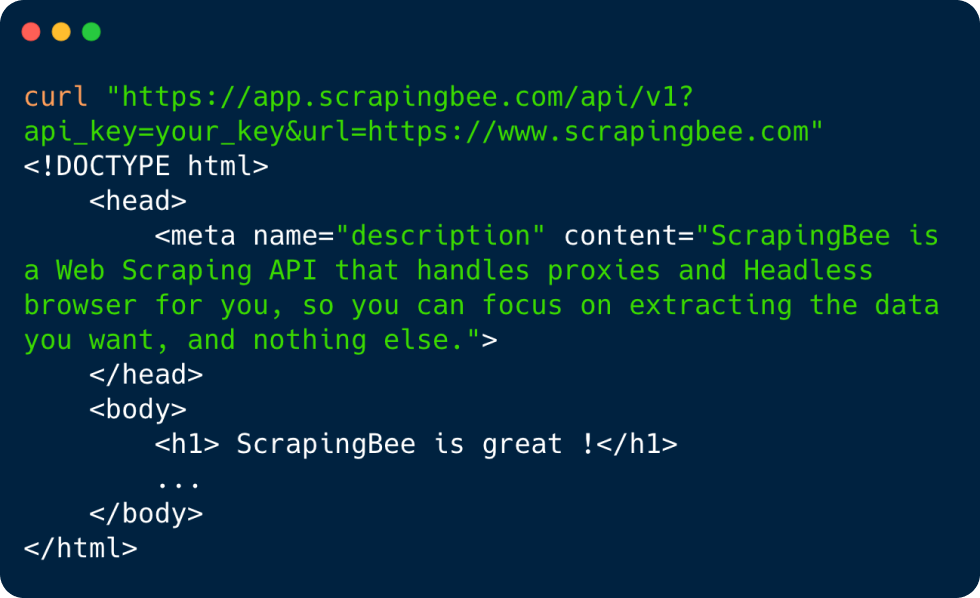 ScrapingBee is simpler.
Having to deal with proxy areas, proxy type, ip whitelisting is frustrating and boring. With ScrapingBee, you don't need to do any of that. Just do a quick API request and you obtain the data you need.
REST API

Scraping the web has never been easier with our real-time API. You provide the URL, we take care of the REST 😁.
Proxy mode, just in case

If you can only work with regular proxies, we got you covered. Our newly launched proxy-mode allows you to use our API like any other proxy provider. You can learn more about it here.

FEATURES
Conservative pricing. Radical power.
Hassle-free web-scraping API.
Smart routing
To ensure a performance rate of 98% , our smart routing algorithms will always pick the right proxies for your needs.
Javascript rendering
You don't want to manage your own fleet of headless browsers yourself and having to deal with docker containers and memory leaks. We'll handle it with our Javascript rendering option.
Captcha avoiding
Our browsers knows how to keep low profile so that you will never see CAPTCHAs again.
Javascript execution
In order to accommodate with endless scrolling, pushing a button or closing a popup, you can run an arbitrary javascript code snippet inside your headless browser.
DEVELOPER EXPERIENCE
World-class support & documentation
At ScrapingBee you're not simply a ticket number. We're always here to give you personalized and responsive help.
Amazing documentation
Take a look at our documentation and get started in minutes!
Knowledge base
Our extensive knowledge base covers the most frequent use cases with code samples.
Code samples
No matter what programming language you love, we got you covered with code samples in Python, Ruby, Java, PHP and Go.
Exceptional support
Get quick answers to your questions via email and live chat. Pierre and Kevin are always here to help you.
Scrapingbee helps us to retrieve information from sites that use very sophisticated mechanism to block unwanted traffic, we were struggling with those sites for some time now and I'm very glad that we found ScrapingBee. Anton R ★★★★★ CTO (see it on Capterra)
ScrapingBee simplified our day-to-day marketing and engineering operations a lot . We no longer have to worry about managing our own fleet of headless browsers, and we no longer have to spend days sourcing the right proxy provider Mike Ritchie CEO @SeekWell
So easy to set-up, straightforward and performance. They are reachable and kind, they introduced us properly their tool and offered the best solution for our need. Maxime Y ★★★★★ Product Manager @ NordFolk (see it on Capterra)
Simple, transparent pricing.
Cancel anytime, no questions asked!
API Credits
Concurrent requests
JavaScript rendering
Rotating & Premium Proxies
Geotargeting
Screenshots, Extraction Rules, Google Search API
Priority Email Support
Dedicated Account Manager
Team Management
Need more credits and concurrency per month?