Crawlera alternative for web scraping?
Avoid paying exorbitant rates for your web scraping.

Try ScrapingBee for Free
based on 65+ reviews.
ScrapingBee clear documentation, easy-to-use API, and great success rate made it a no-brainer. Dominic Phillips Co-Founder @ CodeSubmit
Simple API, powerful features!
Compared to Crawlera's complex usage, ScrapingBee easy-to-use API allows you to quickly get-up and running!
Limitless bandwidth

You don't need to think about the bandwidth with ScrapingBee as our price model is easy. We bill you every month for the amount of queries you make, that's it! Learn more about our pricing.
Get access to all the features, no matter the price you pay!

Custom headers, headless browsers, custom cookies, residentials proxies and more. All our API features are available to all our customers, no matter how much you pay.

Requests for $99/mo

1,000,000

200,000

Custom JavaScript execution

Residentials and Datacenter proxies

*

* only available with pro plan or other product integration (Splash)

Get Started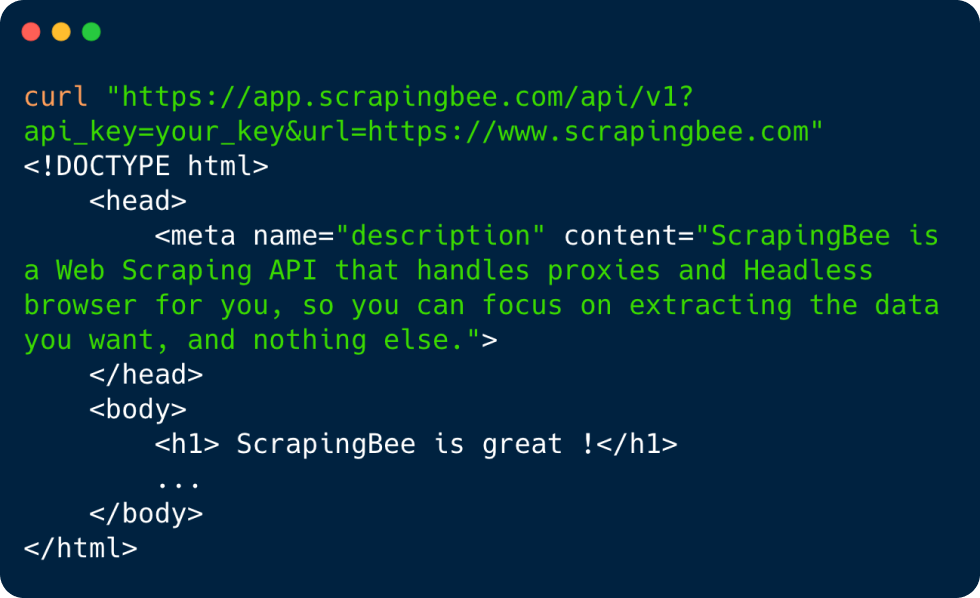 ScrapingBee is just more convenient.
Having to deal with dozens of different products and pricing can be confusing and tedious. With ScrapingBee you don't have to do any of that, you get the data you need with a simple API call. All features can be used by adding a simple parameter to your API call, that's it.
REST API

Our API is easy to use and integrate. Just give us your URL, we take care of the REST 😁.
Proxy mode, just in case

If you can only work with regular proxies, we got you covered. Our newly launched proxy-mode allows you to use our API like any other proxy provider. You can learn more about it here.
We use ScrapingBee to extract real-estate listings from dozens of websites. ScrapingBee API helped us focus on our core-business instead of managing headless browsers by ourselves. Maxime Le Segretain Co-Founder @ Hello DingDong
FEATURES
Cheaper, while doing more!
Hassle-free web-scraping API
Smart routing
We have developed a custom smart routing algorithm that ensure a performance rate of 98%. This algorithm choose the right proxy, in the right location, with the right parameters so you don't have to.
Captcha avoiding
With ScrapingBee CAPTCHAs won't be an issue as our browsers are configured to browser the web undetected.
Javascript rendering
More and more website use complex and heavy JavaScript libraries this days, and to web scrape those you need to manage a large fleet of headless browsers. With ScrapingBee, you won't have to!
Javascript execution
Sometime you will need to do some small action on a web-page to access the HTML. It can be scrolling, or closing a popup or even clicking a button. With ScrapingBee you can easily do all of the above with our custom JavaScript snippet feature.
DEVELOPER EXPERIENCE
Top-rated support & documentation
Our team is here to guide you when you need the extra assistance. And we're constantly working on new features to make your life easier.
Fantastic documentation
Being developers ourselves we have documented our API in the best possible way so that your engineering team can get started in minute. Take a look at our documentation.
Code samples
Whatever the programming language you enjoy, we have written code samples in Java, Python, Go, PHP, curl and JavaScript.
Knowledge base
Over the last two years, we were able to put together an extensive knowledge base to help in all your web scraping tasks.
Exceptional support
Our friendly support is here to help you every step of the way. By live chat or emails, we won't let you down.
Simple, transparent pricing.
Cancel anytime, no questions asked!
API Credits
Concurrent requests
JavaScript rendering
Rotating & Premium Proxies
Geotargeting
Screenshots, Extraction Rules, Google Search API
Priority Email Support
Dedicated Account Manager
Team Management
Need more credits and concurrency per month?